A QSR's Strategy to Overcome Supply Chain Inventory Challenges During COVID-19
Raising Cane's Chicken Fingers prevailed in a volatile time with an ambitious team and the right partners and technology to help drive their vision.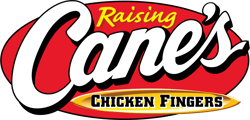 Despite the on-going nature of the COVID-19 pandemic, the restaurant industry has overcome many challenges in order to survive as businesses and to continue to meet the needs of the end consumer.
While foodservice supply chain has encountered various types of disruptions in the past, this pandemic has posed new levels of difficulty, driving supply chain teams to manage inventory and collaborate with partners in a way like never before. Raising Cane's Chicken Fingers (Raising Cane's) is just one of many restaurant chain operators hit hard by the pandemic and forced to pivot their strategy in order to succeed in a time of uncertainty. As the supply chain team continues to work overtime with their foodservice and technology partners, they have been able to not only maintain their supply chain operation, but exceed their customers' expectations.
The Challenges
ArrowStream has seen its restaurant chain operator customers adapt to the new foodservice supply chain environment. Not only are operators dealing with the loss of employees and sales due to closed stores, and quickly adapting to drive-thru, carry-out and delivery operations for the ones that remain open, but lean procurement teams are also working overtime to continue to run an efficient supply chain that no longer resembles business pre-pandemic.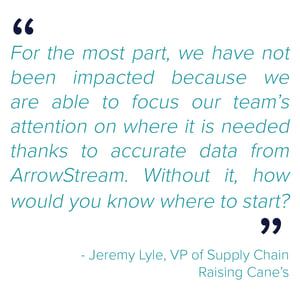 Where supply chain inventory management may have been a well-oiled machine before now is a critical priority that teams are focused on and reviewing several times each day. The quick onset of COVID-19 created daily inventory issues such as:
inventory stock outs and surpluses;
product substitutions;
shifting purchase orders (POs) and delivery patterns; and
unpredictable consumer traffic at a hyper-local level.
How Raising Cane's is Succeeding
ArrowStream customers have been able to gain faster and better control of inventory issues with their distributors and suppliers by having a supply chain technology partner in place. Inventory alerts and robust reporting gives ArrowStream customers easy access to more accurate supply chain inventory data in a fraction of the time it would take to do manually.
Jeremy Lyle, VP of Supply Chain, and Mitch Plesha, Sr. Director of Distribution at Raising Cane's, a QSR specializing in chicken fingers with over 500 locations, leveraged ArrowStream's custom reporting and dashboard data, allowing them the agility to pivot quickly and react to the changing environment. Product needs shifted as they closed stores and only operated drive-thru and takeout at locations that remained open. For instance, having toilet paper on-hand for dine-in customers became less of a priority, whereas a projected 30% increase in to-go packaging and cleaning supplies became the primary focus.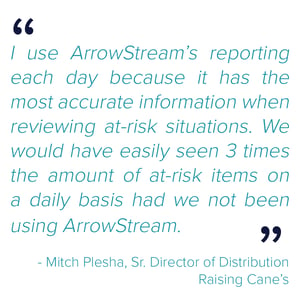 In order to keep up with changing inventory needs and work with their distributors on projecting demand, they instituted a daily call with their distribution center (DC) partners to review ArrowStream's reporting and inventory level data across multiple at-risk items.
ArrowStream's reporting allowed them to get ahead of inventory issues by reviewing all items that were out of stock, would be out of stock, or items that they had less than 3 days on hand over the next 3 POs. Raising Cane's was able to gain clear visibility of all at-risk items in one view, allowing them to prioritize and act quickly. For example, for one bread item, they were able to see not only was it out of stock, but that there was no PO and the issues were centered around a single distributor, resulting in approximately $18,000 of product that should have been available, potentially causing future lost sales. With ArrowStream, having fast access to inventory data meant that an $18,000 problem could avoid being compounded where it could turn into $1M over the course of the year.
In addition, as they re-opened stores, they were able to leverage the data to reflect projected sales increases and ensure the DCs were managing inventory to the higher demand.
Looking Ahead
As the restaurant industry continues to recover and re-open stores, supply chain inventory remains a challenge. Inventory supply chain technology allows users and companies to catch and address issues immediately and to see long-term improvements to their processes and data. More efficient management of and quicker adaptability to inventory issues allows restaurant chain operators to focus again on meeting new growth objectives in a new foodservice supply chain environment.
About ArrowStream's Inventory Visibility Solution
Developed as an easy-to-use solution to help restaurant chain operators stay on top of inventory issues, quick visibility into their supply chain allows users to:
Ensure product is on hand & on order by monitoring DC inventory levels, restaurant usage & POs
Protect quality & brand by tracking & managing DC product substitutions
Respond to restaurant usage trends by monitoring inventory run-out dates & highlighting orders that are insufficient
Avoid stock-outs & lost revenue by identifying & reacting to supplier disruptions
Prepare product flows for new restaurant traffic by modeling demand changes
ArrowStream is committed to getting operators up and running quickly to gain invaluable insight into their supply chain inventory.